Web3 and crypto are leading a new era of internet innovation. This disruptive digital frontier has created intertwining paths of innovation and risk presenting us with both opportunities and challenges. Among these challenges, the increased risk of fraud and the immutable nature of blockchain transactions have underscored the critical need for security, making it the cornerstone of a safe and inclusive digital journey for billions of users worldwide.
Blowfish and Timeless Wallet are two innovative entities committed to ensuring user safety while simplifying interactions with the digital world. The former is a multilayered firewall designed to safeguard Web3 users, while the latter is a cutting-edge social wallet. We are proud to announce a strategic partnership between these two industry leaders.
Join us as we deep dive into this strategic collaboration, and explore the unique strengths each partner brings to the table and what it means to the web3 users.
Blowfish, The Proactive Multi-Layered Defense Against Crypto Scams and Theft
As more value becomes stored digitally, scammers are evolving too – now stealing millions of dollars from tens of thousands of Web3 users every month.
In the world of self-custody, web3 users are left to defend themselves against scammers and hackers with limited support. Their transactional security relies on knowing precisely what transactions they are signing, who they are signing them with, and what those transactions will do.
That's why Blowfish was created. Blowfish is focused on helping wallets keep their users safe. We do that by upgrading the transaction and message signing experience from confusing and scary to simple and secure. Blowfish offers a blazingly fast API that scans, simulates, and enriches transactions, messages, and domains. We help users understand exactly what they are signing before they sign, and protect them from wallet-draining attacks and mistakes with easy-to-understand automated warnings.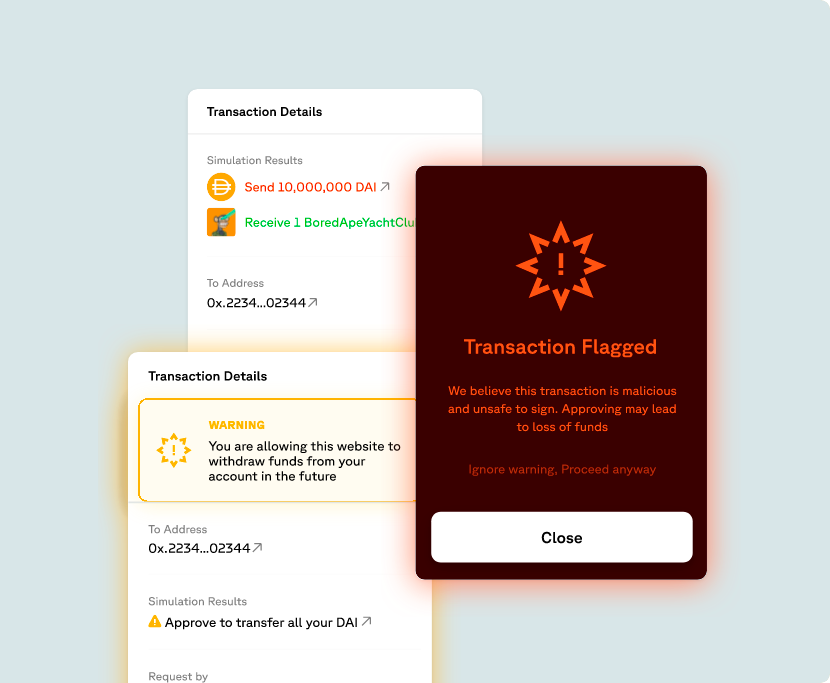 Timeless Wallet, The Social Innovation
As the first social wallet, Timeless creates a seamless, secure, and social environment for Web3 enthusiasts and newcomers alike. It's an intuitive, self-custodial, multi-chain wallet that simplifies the intricacies of the decentralized world into user-friendly interfaces and features. Timeless Wallet makes the process of interacting with digital assets a breeze for everyone, regardless of their tech expertise. It also incorporates biometrics, secure enclave storage, multi-party computation, and FiDO to ensure top-notch security. In addition, Timeless Wallet offers social networking features, blurring the line between economic transactions and social interactions, thus leading to a more integrated digital experience.
Joining Forces
Now, what does this partnership mean for users? Blowfish's security has been natively integrated within Timeless Wallet as part of our commitment to user safety and simplifying user experience. Users can connect to dApps via WalletConnect, with Blowfish security measures automatically activated during the initiation of any transaction.
Blowfish uses the gold standard in signature security. It leverages transaction simulation, message decoding, domain scanning, and fraud detection logic to
Provide powerful and proactive anti-phishing to help users avoid visiting malicious websites
Provide simple and readable insights on every transaction to help users
Understand what is going in and out of the wallets
Verify the assets that users are interacting with
Issue automated warnings to help users avoid signing dangerous transactions and messages
Furthermore, Timeless Wallet users can perform in-app on-chain transactions such as swaps and bridge transactions seamlessly, with Blowfish's protection coming into play before any transaction is approved. This offers users comprehensive and proactive protection against potential threats before the transaction happens.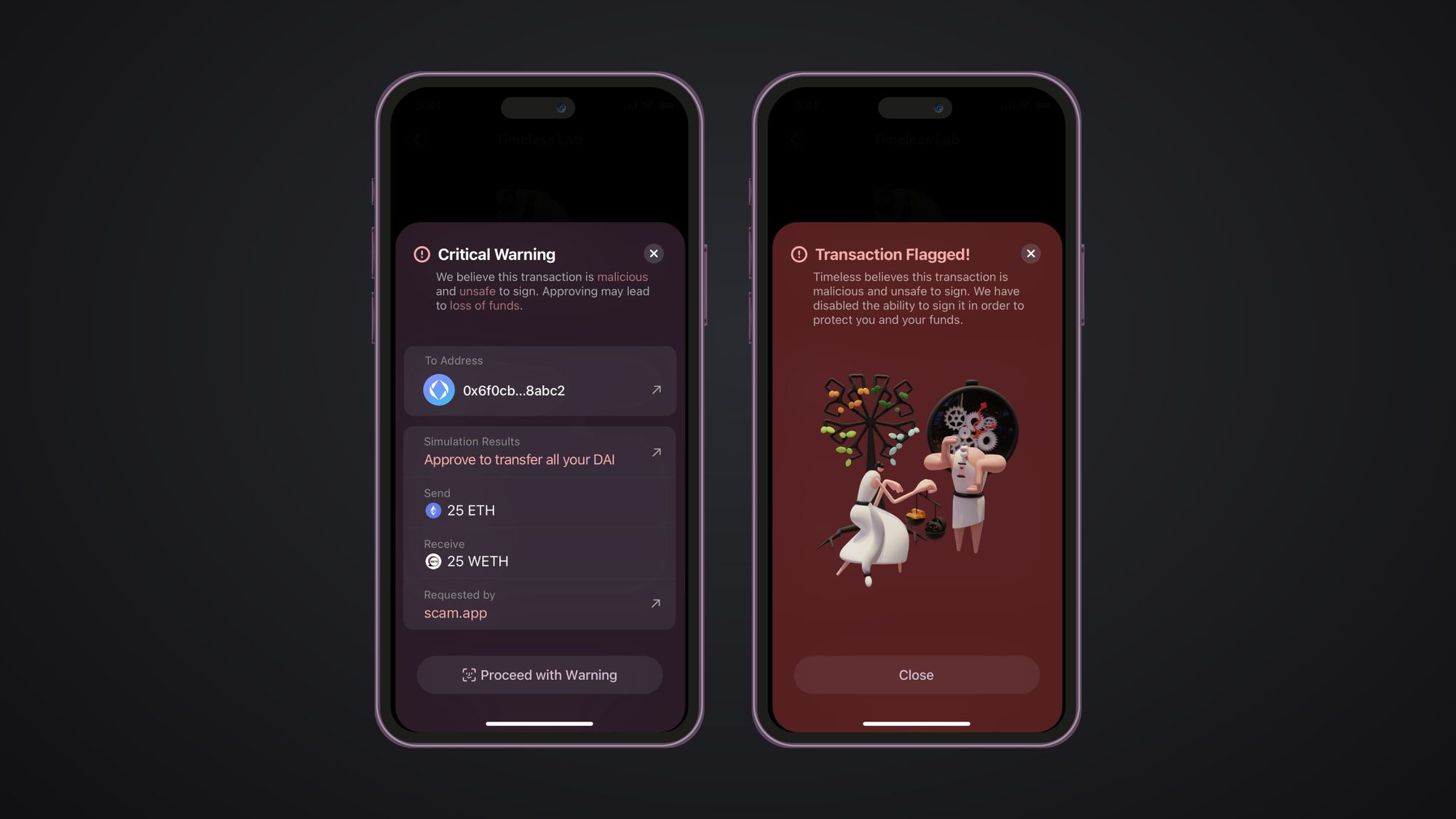 The Rollout of Blowfish Integration
Blowfish's integration rollout will be a phased process. Phase 1 will be an "opt-in" experimental feature available via Timeless Lab for TimelessOG NFT holders only.
To connect with other OG holders and learn more about becoming a Timeless OG, download Timeless Wallet on the App Store and start chatting with the community.
For Phase 2, all Timeless Wallet users will have access and can take advantage of this integrated security provision.
Conclusion
This partnership between Timeless Wallet and Blowfish is a significant leap towards securing and simplifying the Web3 experience. It exemplifies our shared commitment to creating a safer, more user-friendly decentralized digital space.