Blowfish is offering transaction security to every Ethereum & Polygon user through a free browser extension that works with any web-based wallet. Sign up to download it here.
Over the past year, Blowfish has worked with leading wallets to scan over 200 million transactions & keep hundreds of thousands of users safe. You may have used our security if you have a Phantom, Bitski, Frontier, or Spot wallet. But if you're using a wallet that hasn't integrated with Blowfish, there's a high chance that you're at risk every time you sign a transaction.
What's the problem?
You wouldn't sign a blank check, but in Web3 today, you're often forced to blindly sign a transaction without knowing what the result will be. Blind signing is incredibly dangerous & scammers use it to steal millions of dollars a week from web3 users. Web3 users deserve better!
When you're signing a web3 transaction, you should always be able to answer one question, "How is this transaction going to affect MY wallet?" If you can't answer that question, DON'T SIGN. Thousands of web3 users have had their wallets drained because of one bad signature.
Most wallets cannot help you answer this question because they don't use the gold standard in signature security: transaction simulation, message decoding, domain scanning, and fraud detection logic.
This is what can cause even the most advanced traders to lose their NFTs.

Introducing Blowfish Protect
Blowfish Protect is a beautiful, simple & blazing fast browser extension that:
Warns you BEFORE you visit malicious websites
Alerts you if something you're signing looks dangerous
Explains how every transaction & message will affect your wallet BEFORE you sign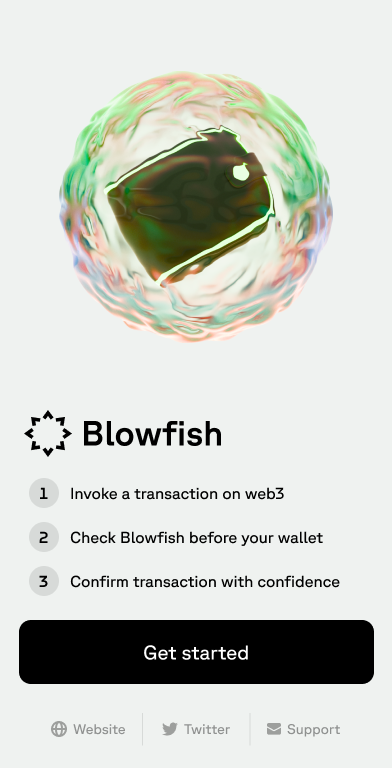 Until today, the only way to get access to Blowfish's gold standard signature security was to download a wallet that uses our security under-the-hood. If you're open to switching wallets, we would highly encourage you to download one of our growing number of partner wallets.
If however, you would like to continue using your current wallet, you can now sign up to download Blowfish Protect which pairs with any web-based wallet. We're releasing Blowfish Protect for users who can't or don't want to switch wallets, but want the very best transaction security.
There's no reason to be blind signing in 2023. Sign up to download Blowfish Protect and transact with peace of mind.